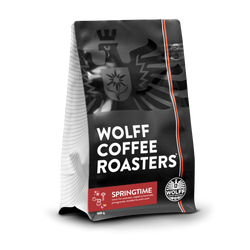 Springtime | Raspberry Lemonade & Pomegranate
It's that time of year again, coffee lovers, when the flowers start blooming, the weather starts changing, birds are singing and of course - it's the release of our Springtime seasonal blend.
This year Springtime takes you on flavour journey, delighting your palette with a bright bouquet of roses and cherry blossom. A berry sweetness revealing a refreshing raspberry lemonade with a juiciness of pomegranate. Fresh new season strawberries and cream leave a pleasant mouthfeel of lingering white chocolate. 
📍 A complex blend of Ethiopia Yirgacheffe Dumerso, Brazil São Silvestre Yellow Icatu, Guatemala Santa Paula, Colombia Santuario Project Campo Hermoso Geisha.

☕️ Rosewater, raspberry lemonade, pomegranate, strawberries and cream.