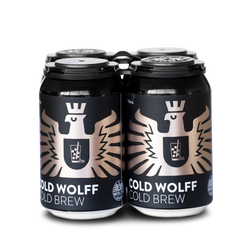 Cold Wolff Cold Brew | Black Coffee
Our Cold Wolff Cans have been masterfully crafted for the busy coffee lover who doesn't want to compromise on quality for a speedy brew. And why should you have to?
Roasted by Wolff, then crafted locally using UV treated and triple filtered water. This is the perfect combination for flavourful, fast cold brew.
Origin: Chiapas, Mexico
Varietals: Bourbon, Typica, Caturra & Mundo Novo
Process: Washed