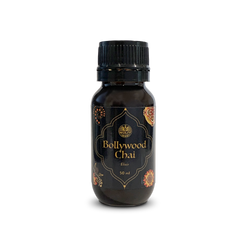 Sample Bollywood Chai Elixir 50ml
For when coffee is not your cup of tea!
It's time to try the greatest flavour sensation to ever come out of Bollywood.
Bollywood Chai™ pairs the best exotic spices of cinnamon, nutmeg, cloves and cardamom, organic black tea powder and Australian raw sugar. 
We were inspired by the lavishness of Bollywood culture! As far as flavour is concerned, in this chai blend more is more, and less is a bore!
A perfect blend of sweet and spicy this sample bottle gives you a taste of our delicious Chai and can be the perfect stocking stuffer this Christmas for you or your coffee abstaining friend.
Try it now with the Bollywood Chai Elixir 50ml Sample!