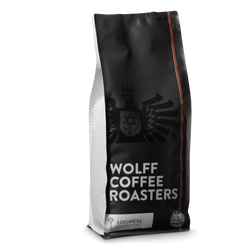 Edelweiss Blend - Office Subscription
The Edelweiss Office Subscription will give you access to exclusive prices for a World Class Coffee, delivered for free every fortnight. A delicious coffee blend that will bring the team together and keep all the brilliant minds on your team caffeinated and vibin', with the easiness of our self-managed subscriptions.
SUBSCRIPTION DETAILS:
Subscribe before Wednesday 6pm to have your first coffee dispatched the following Thursday. 
Your coffee well be delivered based on your choice of frequency: weekly, fortnightly or monthly. You can change it at any time on your Customer Portal.
We will ship your coffee on your selected schedule, always on Thursdays.
Your subscription will be charged accordingly to your selected schedule as well, but on Tuesdays.
You can pause your subscription at any time after the first delivery. Just login to your Customer Portal.
If you want to cancel your subscription please contact us through email or phone.
If you have any question about our subscriptions please send us an email subscriptions@wolffcoffeeroasters.com.au