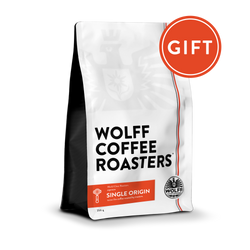 Gift Subscription - Single Origin 250g Fortnightly
If you want to buy a Gift Subscription please follow the https://wolffcoffeeroasters.com.au/products/gift-subscriptions-1
Congratulations!

You received an World Class Gift!

Just choose how would like your coffee: whole beans or ground, add this to your cart and on the checkout enter the gift code that you received.
That's it! Now we'll send some delicious coffee to you, every 2 weeks, for 3 months.
A rotation of our favourites single origins delivered as a gift! Chose the frequency, size, roast style and grind sizes and our roasters will pick what's in peak flavour for you! Our Single Origins are ethically and sustainably sourced from our farmers around the World, master roasted and shipped where ever you want, and you don't even need to think about it!
If you have any question about our subscriptions please send us an email subscriptions@wolffcoffeeroasters.com.au