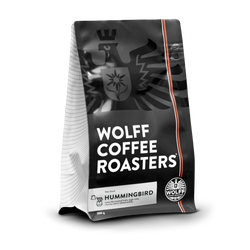 Hummingbird Subscription | Fruity Filter Blend
Have you heard the word about the bird? That's right, our signature filter blend, the Hummingbird, has returned! Comprised entirely of naturally processed coffees from East Africa, this blend is the very definition of a fruit bomb. What we really love about it, though, is the balance created by blending different single origins together. This one's a real humdinger!
Aromatically this coffee has floral, lilac notes. The cup is very fruit driven: think of gooseberries, white grape and white cherries. There is a tropical fruit style acidity, reminiscent of passionfruit. As it cools, the Hummingbird is beautifully sweet. It reminds us of prune juice and sugar cane with a vanilla like aftertaste.
IN THE CUP: Floral, Gooseberry, White Grape, White Cherry, Passionfruit, Sugar Cane and Vanilla.
Shipping rates are included on the final price!
SUBSCRIPTION DETAILS:
Subscribe before Wednesday 6pm to have your first coffee dispatched the following Thursday. 
Your coffee well be delivered based on your choice of frequency: weekly, fortnightly or monthly. You can change it at any time on your Customer Portal.
We will ship your coffee on your selected schedule, always on Thursdays.
Your subscription will be charged accordingly to your selected schedule as well, but on Tuesdays.
You can pause your subscription at any time after the first delivery. Just login to your Customer Portal.
If you want to cancel your subscription please contact us through email or phone.
If you have any question about our subscriptions please send us an email subscriptions@wolffcoffeeroasters.com.au