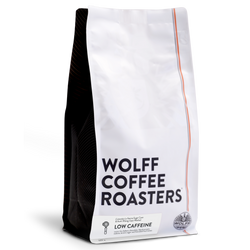 Low Caffeine Blend Subscription | Zero to Hero
The amount of caffeine in your daily coffee choice varies greatly. The research is not clear, but it is likely that healthy adults can in general consume around 400mg of caffeine a day safely.

This has led the team at Wolff to their latest addiction (addition!) The Caffeine Collection. A collection of blends crafted with care and mindfully curated to consider your daily caffeine intake. The all new Zero to Low to Hero Collection, provides power of choice, to discover your perfect daily caffeine level and find your ideal flow state.

Keep the coffee flowing all day - Low Caffeine Blend.
60% less caffeine than our Haus Blends
Aceh Ribang Gayo Washed
Colombia Tolima Sugar Decaffeinated
Shipping rates are included on the final price!
SUBSCRIPTION DETAILS:
Subscribe before Wednesday 6pm to have your first coffee dispatched the following Thursday. 
Your coffee well be delivered based on your choice of frequency: weekly, fortnightly or monthly. You can change it at any time on your Customer Portal.
We will ship your coffee on your selected schedule, always on Thursdays.
Your subscription will be charged accordingly to your selected schedule as well, but on Tuesdays.
You can pause your subscription at any time after the first delivery. Just login to your Customer Portal.
If you want to cancel your subscription please contact us through email or phone.
If you have any question about our subscriptions please send us an email subscriptions@wolffcoffeeroasters.com.au