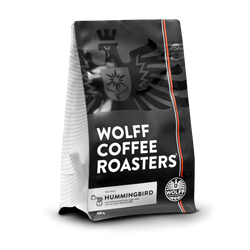 Hummingbird | Fruity Filter Blend
Have you heard the word about the bird? That's right, our signature filter blend, the Hummingbird, has returned! Comprised entirely of naturally processed coffees from East Africa, this blend is the very definition of a fruit bomb. What we really love about it, though, is the balance created by blending different single origins together. This one's a real humdinger!
Aromatically this coffee has floral, lilac notes. The cup is very fruit driven: think of gooseberries, white grape and white cherries. There is a tropical fruit style acidity, reminiscent of passionfruit. As it cools, the Hummingbird is beautifully sweet. It reminds us of prune juice and sugar cane with a vanilla like aftertaste.
IN THE CUP: Floral, Gooseberry, White Grape, White Cherry, Passionfruit, Sugar Cane and Vanilla.