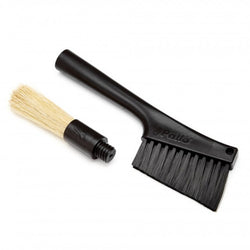 Combination Grinder Brush
The Pallo GrindMinder is the ultimate barista brush for a clean workspace. It has been designed for both counter-top cleaning and grinder burr cleaning.
The black, low-profile head is designed for sweeping away coffee grinds and crumbs from counter-tops, and reaching those hard-to-clean places under espresso machines.
The natural coloured bristles on the other end of the GrindMinder are perfect for brushing away coffee grinds from grinder burrs. The long, thin bristles can also be used to brush grinds out of corners and small spaces. Note - All bristles are soft
Dimensions: 279 x 50.8 x 12.7 mm