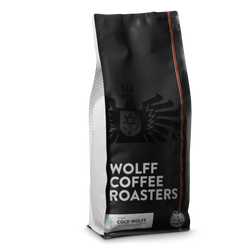 Cold Wolff | Cold Brew Coffee
If you love cold brewed coffee and you love our own Cold Wolff available at Big Bad Wolff Espresso Bar, this coffee is for you. Now you can get the amazing coffee roasted and ground for cold brew in a convenient 1kg bag. 
Mastering the craft of cold brewed coffee at home is easy: add 1 part of coffee to 8 parts of water in an immersion cold brewer like the Hario Mizudashi or a Toddy Brewer and keep it in the fridge for 12 hours. Remove the grounds from it and enjoy a refreshing and perfectly brewed coffee! You can add your favourite milk, sugar, syrups or use it in drinks, espresso martinis, add a slice of orange and tonic water... Delicious and refreshing!

Please note that this is sold as a ground coffee only. 
Check our Cold Wolff Brewer Pack, it's everything you need to start brewing at home!