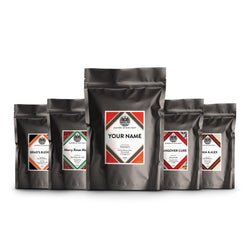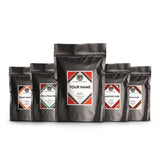 Craft Your Own Blend
Crafting the perfect coffee blend is a lifetime labour of love. At Wolff we love mastering just that! Beans that vibrate at your level and speak deliciousness to your personal palate.

Here at Wolff, we thought now it's time to give the power to our people. We are giving you the chance to create your own unique personalised coffee blends. 

Simply follow these easy steps.
Hand select your own favourite flavour base, add pops of additional flavour notes, select your roast profile, grind size and voila your wish is our command!
Our Master Roasters will put together your unique combination, crafted using only ethically sourced specialty grade beans from around the world.


Next up it's time to name your blend! Create your own personalised coffee label, theme it up and add a unique message for your loved one! Ohhhh how sweet!
Don't forget to check your label for typos and errors as all labels will be printed as shown in your preview. We strongly recommend you to carefully check all details, thank you.
Get $10 off ordering 4 or more!

Please respect that we reserve the right to censor messages that are profane or insulting. Keep it clean folks!

Contains 250 g of specialty coffee beans, made from imported ingredients.
Blended, roasted & packed in Brisbane, Queensland, Australia.

Please note: As we make each Crafted Blend to order, it will be dispatched in 5-7 business days.