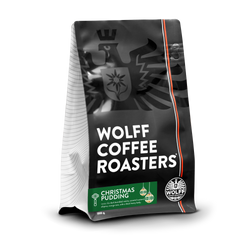 Christmas Pudding Blend | Tastes like Christmas 🎄
What does Christmas remind you of? Mistletoe, snow, Christmas tree, the beach, eggnog or Christmas pudding, and so many wonderful things. When the heart is happy, Christmas can never be dull. It's not just about feasting and fun. It's also a time for happy reunions with family and friends.
Enjoy our seasonal treat that embraces the qualities of a pudding, dark brandied raisins, caramel custard, allspice, orange zest, with a thick heavy body.
Origins: India, Brazil, El Salvador & Indonesia.